Seasonal Events
Holy Week & Easter Schedule
April 9, Palm Sunday: 9:00am Sunday School,
10:15am Service of Word & Sacrament
April 11, Holy Tuesday: NO PB & Jesus Bible Study
April 12, Holy Wednesday: 12:10pm Service of Word & Prayer followed by Lunch
April 14, Good Friday: 12:10pm – 12:45pm Good Friday Service
(No evening service)
April 16, Easter Sunday: 7:15am Sunrise Service on the lawn between the church and the train station
9:00am Easter Breakfast and Egg Hunt
10:15am Service of Word & Sacrament
Dauphin County Chorus Article Coming Soon

Whig Anniversary Featured Speaker Howard J. Parker
Howard Parker is a local historian, reenactor, and long-time docent at the John Harris-Simon Cameron Mansion. He has portrayed Thomas Elder, 19th century Harrisburg attorney, bank president, entrepreneur, and behind the scenes politician, at "An Evening with Thomas Elder" at the Harris-Cameron Mansion, at the anniversary commemoration at the historic Peace Church, and at events held by the Historical Society of Dauphin County. He is working on a book recounting the pivotal role of central Pennsylvanians in the watershed presidential election of 1840 including the Whig Convention at Zion Lutheran Church. -Read WHIG Convention 1839
Harrisburg Gallery Walk Sunday, September 11, 11:00am - 6:00pm
Zion will be a venue on the Gallery Walk sponsored by the Art Association of Harrisburg. Artists from congregations in the building will be exhibiting in the Fellowship Hall. We are also planning for a special "Children and Youth Art" exhibit. We will be providing tours of the worship spaces and providing light refreshments. Salem UCC, our neighbor around the corner, has been a venue for several years and will be a venue this year. Pastor Pejack and family, along with many others in the city, enjoyed touring Salem and meeting the artist they hosted last year.
Mark your calendars and consider volunteering for this event. For more information, speak with the pastor.
LOOKING AHEAD WORSHIP ON THE PRIDE: Sunday, August 21

Almost every Sunday during the summer, Christian Churches United (CCU) sponsors a Sunday Worship Service on the Riverboat. On Sunday, August 21, Pastor Pejack will serve as the preacher. The ship departs from City Island at 10:30am; anyone wishing to attend should be at the dock on City Island by 10:00am. There is no cost; however, there is an opportunity to contribute to an offering that is shared between CCU and The Harrisburg Area Riverboat Society. To see the ways that CCU provides local assistance to those in need, check out their website at www.ccuhbg.org. The scheduled 10:15am worship service at Zion will be led by Pastor Pejack's husband.
Reformation Sunday Commemorated at Zion
On October 31, 1517, a German monk named Martin Luther published a list of abuses he believed were being committed against the people of God in the name of and by the Church—this act is viewed as the beginning of the Protestant Reformation.
Zion annually commemorates this event on the last Sunday in October with a service of Word and Sacrament, followed by a fellowship meal consisting of German-inspired food. In 2016, the Rite of Confirmation will be part of the worship service.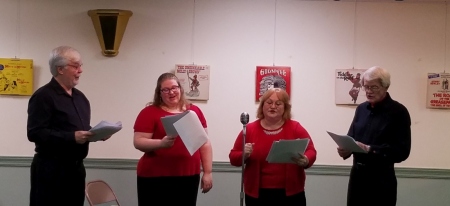 February 2017
February 5th:
Souper Bowl Luncheon
After worship on Super Bowl Sunday, Zion gathers to fellowship over bowls of homemade soup. Canned soup is collected for the local food bank.
February 11th:
ShowTune Tea
Zion's choir will entertain members and friends with Broadway showtunes while participants sample tea, sandwiches, and desserts.
February 28th:
Fastnacht Day
Those stopping by the church during office hours will be able to grab a cup of coffee and a fresh, homemade fastnachts (stay for Bible Study at 12:10pm!)