Seasonal Events
Lent & Easter 2022
Ash Wednesday - March 2nd, 2022
Maundy Thursday - April 14, 2022
Good Friday, April 15, 2022
Easter Sunday - April 17, 2022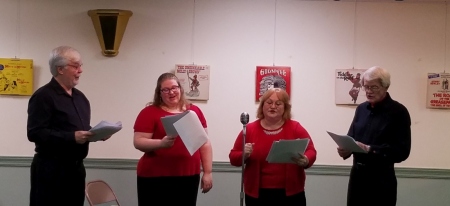 February
February 26: Ash Wednesday
12:10 - 12:55PM Service of Word and Sacrament with imposition of ashes


April
April 5, Palm Sunday:
9:00am Sunday School,
10:15am Service of Word & Sacrament

April 7, Holy Tuesday: NO PB & Jesus Bible Study

April 8, Holy Wednesday:
12:10—12:35PM Service of Word & Sacrament
A light lunch follows this service.

April 9, Maundy Thursday:
6:00pm Soup Supper
A sign-up sheet for the Soup Meal will be in Fellowship Hall.
7:00pm Service of Maundy Thursday Holy Communion in Fellowship Hall
7:30pm Tenebrae (Service of Shadows)

April 10, Good Friday:
12:10pm – 12:45pm Tenebrae Service
Led by Father Keith Almond (Good Shepherd Anglican) & Pastor Karin Pejack
7:00pm Good Friday Service at St. Timothy in Camp Hill

April 12, Easter Sunday:
7:15am Sunrise Service - On the lawn between the church and the train station
9:00am Easter Breakfast and Egg Hunt
A sign-up sheet for Easter Breakfast will be in Fellowship Hall.
10:15am Service of Word & Sacrament


May
Himmelfahrt – Ascension Day Service in German
Remembering our German heritage, Zion holds a German-language Ascension Day service (an English translation of the service is available) beginning at 7:00pm. Coffee and German cakes precede the service at 6:30pm.

July
Zion on the River
Come worship with Zion on the Pride of the Susquehanna riverboat! The ship leaves the dock at 10:00am. For those with hydrophobia, the regular 10:15am service at Zion will still be held!

September
Gallery Walk
Zion participates in Harrisburg's Art Walk by hosting local artists to display their work in our Fellowship Hall. In addition, tours of historic Zion with its collection of Christian art forms are provided. The Art Walk lasts from 10:00am—6:00pm.
October
Harvest Home
"Come, ye thankful people, come, raise the song of Harvest Home!" Zion is decorated with the signs of Fall as we celebrate both the bounty of God and the final harvest of souls to come.
Reformation Sunday
Come celebrate the anniversary of the Reformation with us. A German meal follows the worship service. You must call the church office and make a reservation in order to participate in the meal.
November
All Saints Sunday
We remember those of the Zion family who joined the Church Triumphant over the past year.
December
Christmas Cantata Sunday
Zion's choir performs special seasonal music during the worship service.
Christmas Eve Service
A traditional candle-light service begins at 7:30pm; cookies and punch precede the service beginning at 6:30pm.